You are cordially invited to the Temple Beth Israel 44th Anniversary Gala Celebration as we honor longtime Temple members Rabbi Michael & Nancy Eisenstat!
Let us transport you to the streets of France with delicious food, phenomenal music, memorable entertainment, and rejoice in the true meaning of 'La Vie en Rose'... seeing the beauty in every day!
February 19, 2023 at 5:30 p.m.
Where: Michael's on East - 1212 S. East Avenue, Sarasota, FL
Ticket Information: $180 per person - All Inclusive cocktails, hors d'oeuvres, dinner, entertainment & more!
Reserve a table with friends & family. RAFFLE PRIZES!
Don't miss TBI's Major Fundraising Event of the Year! If you're unable to attend, but still wish to support TBI, please consider still purchasing a ticket, a program book greeting, or a sponsorship!
OUR HONOREES
Rabbi Michael Eisenstat is rabbi emeritus at Temple Beth Israel. He has served the Jewish community as an Air Force chaplain during the Vietnam War and as a rabbi of Temple B'nai Sholom in Huntsville; 23 years at Temple Judea in Coral Gables; and 11 years at Temple Beth Israel before retirement. He is a member of the Rabbinic Cabinet of UJA and has participated as a volunteer on an army base through the Volunteers for Israel Program. An ardent Zionist, he has been honored for his work on behalf of Israel and has been active in interfaith work, public service, and rabbinical councils. He is also founder of the Rabbi Michael B. Eisenstat Miniversity of Judaism which still operates today at TBI.
Both hailing from New York, Michael and his wife Nancy met when they were students at the University of Cincinnati where he was studying to become a rabbi and Nancy was majoring in art, and she went on to become an art education teacher. They were married in New York in 1963 and have 2 grown children and 4 grandchildren.
When they are not dedicating their time to the Temple, the Eisenstat's enjoy traveling – their favorite places to visit thus far include Israel, Africa, and Bali. Rabbi is an avid golfer and Nancy enjoys spending time with her family and friends. They remain active and invaluable members to Temple Beth Israel.
ENTERTAINMENT
Sheri Nadelman and soulRcoaster - As the lead singer and rhythm guitarist, Sheri's soulful, intoxicatingly passionate vocals make her the real deal! This native New Yorker has the unique ability to connect with the audience. She commands the stage earning her a stellar reputation as a consummate entertainer. With a vocal range that can belt out a rocking tune or a beautiful love song, Sheri's energetic performance is contagious and is a guaranteed crowd pleaser! Her band, soulRcoaster, is a dynamic Florida cover band. From Etta James to Lady Gaga, classic rock to Motown, jazz, ballads, disco, and a variety of pop songs, soulRcoaster will engage you, entertain you and take you on a ride.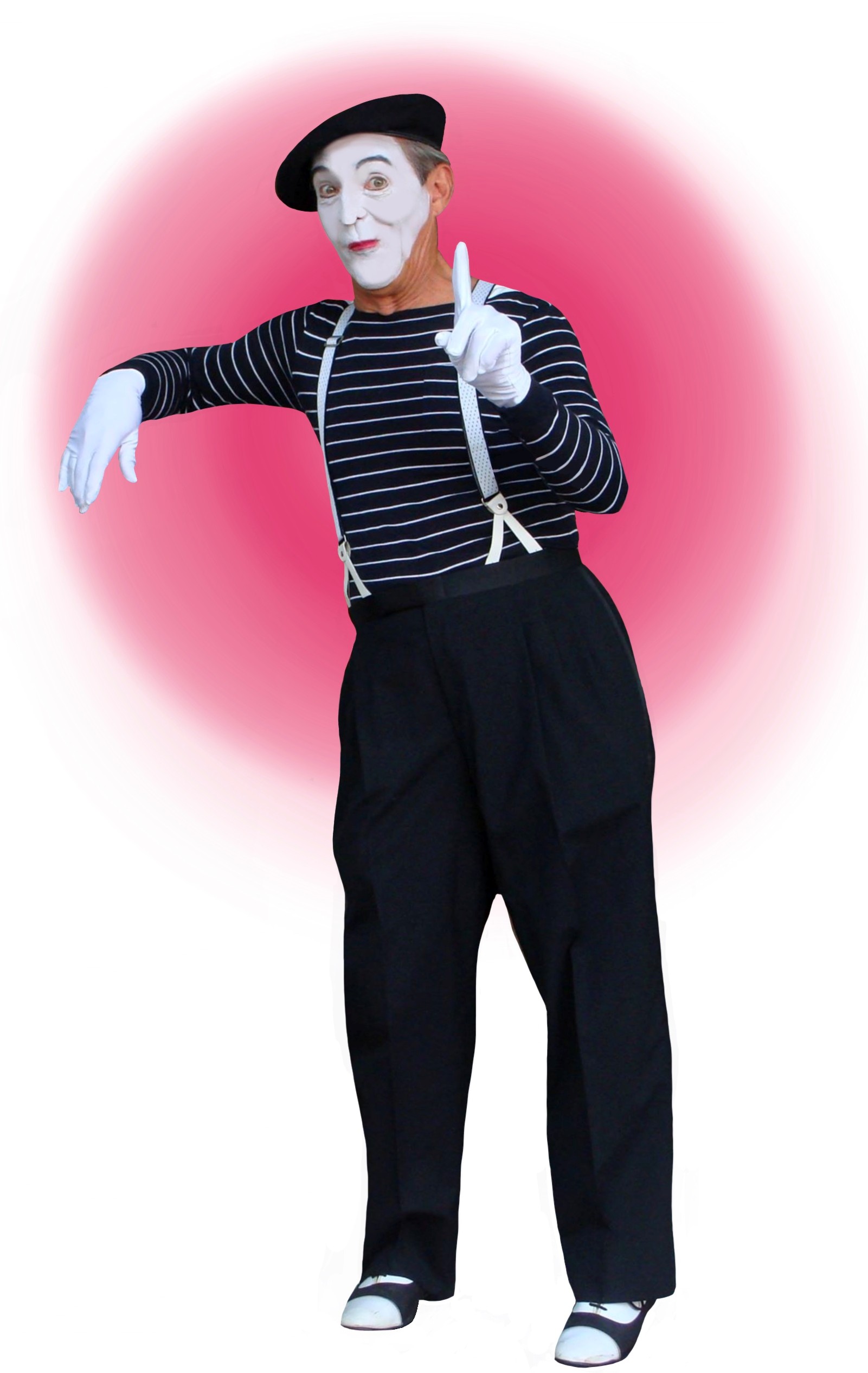 Kenney DeCamp, aka 'Dr. Mime', is a former orthopedic/neurosurgical physician's assistant who practiced with the New York Medical College and the U.S. Army. He lectures as a body linguist on mind-body connections. His goal is to inspire children of all ages to learn about their growth and nutritional realities. Kenney is a mime performer who has taken classes with Marcel Marceau, Tommy Tune, Alvin Ailey, Twyla Tharp, Peter Gennaro, and others. He has performed for Andy Warhol, John Lennon, Yoko Ono, Bruce Springsteen, and Mick Jagger, and has been the opening act for Phil Collins, Donna Summer, Blondie, Gloria Gaynor and The Trammps, to name but a few.
Dr. Ann Stephenson-Moe will be our Master of Ceremonies - Ann co-founded the renowned and much-loved Key Chorale – the Symphonic Choir of the Florida West Coast Symphony. She also co-founded, and performed as associate conductor and keyboardist, for Gloria Musicae, a widely popular chamber chorus which performs throughout Southwest Florida. Ann has been directing choirs at Sarasota-area churches & synagogues since 1984. She is currently organist and music director at Temple Beth Israel and a dear friend to Rabbi Michael and Nancy Eisenstat.
SPONSORSHIP OPPORTUNITIES
If you have questions about sponsorship, please contact Executive Director Isaac Azerad
(941) 685-6366 or email isaac@longboatkeytemple.org
ALL SPONSORS WILL BE RECOGNIZED IN THE PROGRAM AND ACKNOWLEDGED DURING THE EVENT.
| | | | | | |
| --- | --- | --- | --- | --- | --- |
| CATEGORY | GROSS AMOUNT | # TICKETS INCLUDED | BENEFITS INCLUDING GOLD PAGE | BENEFIT TICKETS | TAX DEDUCTIBLE AMOUNT |
| HONORARY FOUNDER | $10,000 | 8 | $2,520 | $1,520 | $7,480 |
| CORPORATE SPONSOR | $5,000 | 4 | $1,760 | $760 | $3,240 |
| EVENT BENEFACTOR | $5000 | 4 | $1,760 | $760 | $3,240 |
| PATRON | $4,000 | 2 | $1,380 | $380 | $2,620 |
| FOOD SPONSOR | $3,000 | 0 | $1,000 | $0 | $2,000 |
| PROGRAM BOOK SPONSOR | $3,000 | 0 | $1,000 | $0 | $2,000 |
| ENTERTAINMENT SPONSOR | $3,000 | 0 | $1,000 | $0 | $2,000 |
| DECORATIONS SPONSOR | $1,500 | 0 | $0 | $0 | $1,500 |
| CENTERPIECES SPONSOR | $1,500 | 0 | $0 | $0 | $1,500 |
| INVITATIONS SPONSOR | $1,500 | 0 | $0 | $0 | $1,500 |
PROGRAM BOOK ADVERTISING
| | | | |
| --- | --- | --- | --- |
| PROGRAM BOOK AD SIZE | AMOUNT | PROGRAM BOOK SIZE | AMOUNT |
| GOLD FULL PAGE 6"X7.5" | $1,000 | REAR COVER COLOR FULL 6"X7.5" | $1,350 |
| FULL PAGE 6"X7.5" | $850 | INSIDE FRONT COLOR FULL 6"X7.5" | $1,100 |
| HALF PAGE 6"X3.75" | $500 | INSIDE REAR COLOR FULL 6"X7.5" | $1,100 |
| QUARTER PAGE 3"X3.5" | $250 | | |
| GREETING 3"X1" | $90 | | |
| L'CHAIM LISTING (NAME ONLY) | $40 | | |
FOR QUESTIONS ABOUT ADVERTISING & DONATIONS, CONTACT THE OFFICE
AT (941) 383-3428 OR EMAIL: OFFICE@LONGBOATKEYTEMPLE.ORG
Fri, February 3 2023 12 Shevat 5783