Fran Mann Memorial Library
Our library is a lending collection of Judaica with more than 5000 volumes of modern and classical titles, including videos, DVDs, audio-books, and cassettes.
It boasts a comprehensive reference section for study and research. Additionally, fiction and non-fiction with a Jewish connection and/or by Jewish authors are included.
The library constantly adds new books and materials, providing our members with the latest publications.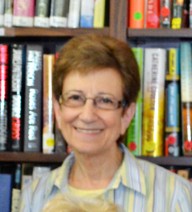 Librarian - Amy Roth
---
ONLINE SEARCH: To search the online database for a specific item in our library, click HERE
HOW TO CHECK OUT BOOKS: If you'd like to check out a book, please write your name on the card located in the back of the book and leave it in the box on the librarian's desk when you leave.
RETURNING BOOKS: There is a return drop box located outside of the library entrance in the Social Hall. Please be sure to drop books here and not on the librarian's desk.
CURRENT HOURS:
Summer - May through August: Library is open 10am - 2pm
Fall-Spring - Meetings and other events are sometimes held in the library, we suggest you call ahead to be sure that the library is available
"Books are meant not to be shelved, but to be studied." - Sefer Chassidim
Wed, November 29 2023 16 Kislev 5784